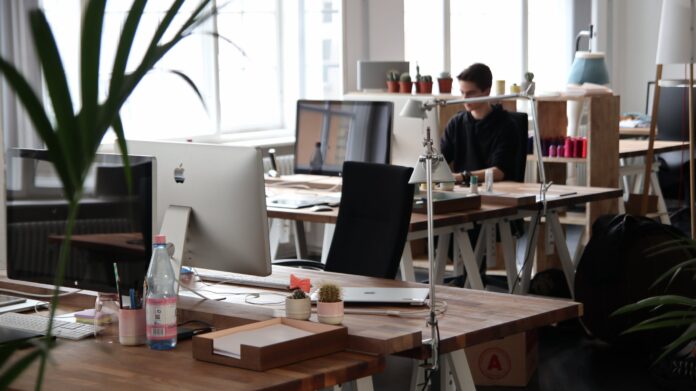 Working from home offers a number of advantages to residents, often making their professional life much easier to manage, as well as to balance with their personal routine. However, without a dedicated or well-designed office space, remote working can actually be a challenge.
While many will be happy to step away from the shared environment of central working spaces, these offices are designed to promote productivity and comfort. If such design considerations are not replicated at home, teleworkers might soon find themselves struggling to keep up with their workload.
This is largely because the more casual approaches that some residents fall into, those of working at kitchen tables and even on the sofa, are not conducive to professional lifestyles. So, for those wanting to take remote working seriously, we're sharing the essential rules of designing a personal office space at home.
Distraction-Free
You might remember the soft grey dividers from a previous office space, those plain cubicles that separated you from coworkers. While they are certainly not an aesthetically pleasing addition to the home, they do serve an important purpose, which is to deter distraction.
When creating an office at home, this must be considered. Distractions occur in a number of ways, from family members to external noise. As such, choose a location for your office that is most removed and most isolated from your living space, so as to distance yourself from potential interference.
Distance & Balance
Establishing an office space at home is challenging because many find their work and personal lives blending together. Those who answer emails in the dining room are more likely to do so again out of hours.
Distancing yourself from your working space isn't always easy. Sometimes a door is enough but others find solutions elsewhere, and why many choose to buy log cabins and other such outbuildings, allowing them to establish a private and luxurious office space in their garden. By creating such a divide, even one that is the length of an outdoor space, residents will find maintaining a work-life balance much easier.
Considered Operation
An office space should offer all that is conducive to operation. Assets such as utilities and storage should be readily available so that a professional routine can be managed without disruption or compromise. Essential documents, for example, should be stored safely as they would have been in a central office space, not only to ensure the same level of security and data protection but also to ensure that they can be managed and navigated easily too.
Comfort & Style
Remote working also means being on show. Conference calls put your and your working space on show and others can be assured to be scrutinising your space. As such, be sure to not only have a tidy and clean space but one that is decorated and stylish.
By creating such a considered space and interior design, you are making a positive statement toward your professionalism and dedication to the role, one that is much more favourable than that of a kitchen area!