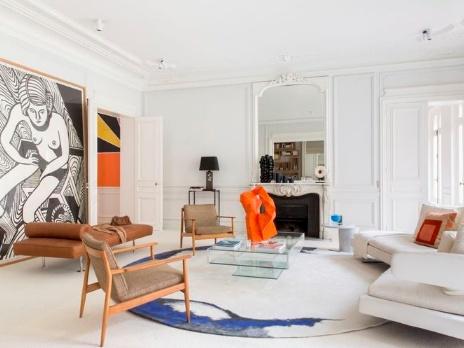 Everyone's home lifestyles are constantly shifting as our families grow or we move into new homes and cities, and it's important for home décor to shift as well through industry trends and all sorts of changes in your personal preferences.
One changeup that people like to consider within their interior design is mixing up new area rugs, but of course shopping for area rugs is traditionally a huge hassle that requires entire weekends or even several weekends to get perfect. But the good news is that there are many different reputable online area rug outlets like Rug Source that help rug shoppers find what they need without even leaving the comforts of their home.
We're very fortunate to have built a partnership up with the experienced rug industry experts at Rug Source to develop this list of five tips oriented around helping you find high-quality area rugs online, so take it from the Rug Source guys in that these tips will improve you online rug shopping habits!
Rugs Should Usually Be Your First Décor Purchase Within A Room
This is always a good tip to keep in mind if you have the flexibility within a new home that you're just moving into, because decorating an entire room around an area rug will undoubtedly provide you with the type of cohesion that looks fantastic from a décor standpoint.
But even if you already have your furniture set up and ready to go, you can still find great area rugs that match your existing room aesthetics!
Understanding Rug Materials & Manufacturing
There are many differences found throughout the rug industry that make certain area rugs more expensive and valuable than others. In general, hand-knotted rugs are going to be the highest end of the spectrum because they're handmade from natural fibers like wool and silk and require several months of manufacturing to finalize. You'll also see significant design differences between hand-knotted rugs and machine-made counterparts.
Understanding these types of rug differences will also help you understand which options will be the most durable and meet your specific needs.
Always Ask Questions To Experienced Rug Experts
You shouldn't feel ashamed or scared to ask questions to people that know what they're talking about, and this includes when you're shopping for rugs online. These days, there are many different online outlets that offer customer support where you can go through all of your questions and concerns with someone who has helped countless other rug shoppers just like yourself.
This type of advice will undoubtedly go a long way when it comes to ensuring that your space looks fantastic when your decorating is all said and done!
Proper Measuring Is CRUCIAL!
It's true that most handmade area rugs are going to come in relatively odd sizes, so one of the most important things you can do is properly measure out your desired space where you want to place your new area rug prior to doing any online shopping.
When you know just how big or small you can go with your next rug purchase, it'll help you narrow down your search more effectively.
Always Invest In A Rug Pad
No one wants their new rug purchase to fade or become obsolete prematurely, because rug purchases are typically long-term investments that are supposed to last a long time.
One way to protect your rug investment is by also purchasing a rug pad that'll go underneath your rug. These pads are incredibly important because they help ensure the overall integrity of your new rug in a whole variety of ways!
Contact The Rug Source Gurus To Learn More Tips About Online Rug Shopping!
Online rug shopping truly is the future of the entire industry, and these days it's easier than ever due to unparalleled customer support. When you shop for your next area rugs via the experts at Rug Source, you'll be comfortably sitting in your home and getting incredible advice that you otherwise would've had to get at an in-person showroom in some random part of your town.
So go through the link to the Rug Source homepage at the top of this page to get in touch with experienced rug experts today!