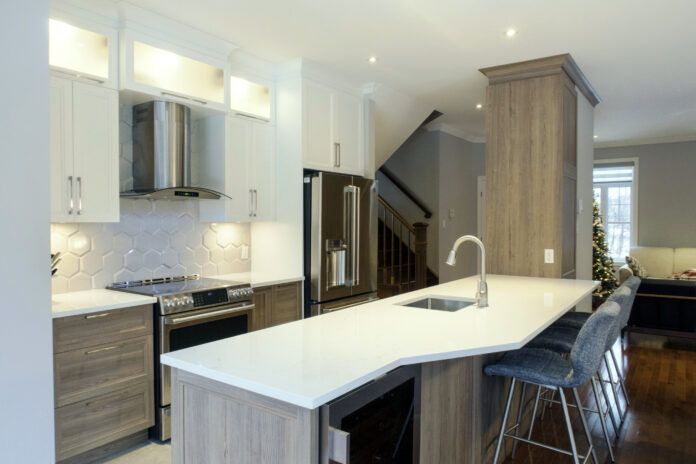 Countertops lay down the foundation on which your kitchen is built. If you've been wondering where to start when designing your kitchen; countertops are your answer! 
There is no house that is devoid of kitchen countertops and realizing its irreplaceability, manufacturers have created various alternatives that people can choose from. Initially, countertops which were limited to marble are now available in a plethora of materials.  
Five of the most used ones have been listed below- 
1] Granite 
The durability, strength, imperviousness to heat and the wide variety that granite comes with makes granite a very popular choice amongst individuals. It has the potential to add great elegance to your kitchen. However, it is not without its drawbacks. Granite can be expensive to install, needs to be sealed to avoid stains, the slabs can have imperfections and might crack when stressed.  
2] Wood 
The warmth and cosy vibes that wooden countertops provide can just not be replaced. Wooden countertops offer a charming cottage look, are fairly easy to maintain, can have good longevity if well cared for and can always been sanded or re-sealed.  They, however, are prone to the risks of scratches and cuts, can be damaged by stains over time, face bacterial issues and break if they are not well-maintained.  
3] Quartz
Quartz also termed as the engineered stone is fabricated by using 93% Quartz, which is shaped into slabs. They require no annual sealing, are more adaptable than granite and marble, resist stains and are unaffected by heat or acid, can be custom-made and offer a very natural appearance.  Quartz countertops although can be expensive and quite heavy.  
4] Neolith 
Neolith countertops have been recently gaining prominence due to their scratch and temperature resistant nature.  A cherry on top is these are also environment-friendly. It is the ultimate blend of functionality and beauty and comes with great versatility. The installation of neolith countertops can be tricky and they are pretty prone to cracking.  
5] Dekton 
Dekton countertops are steadily being used by the population due to their durability, non-porous nature and temperature resistance. The only downsides of Dekton countertops are that they are mildly expensive and are not impact-proof.  They are also very difficult to repair once broken and need to be replaced. 
Every countertop comes with its own pros and cons. You can check their exclusive range at comptoir de cuisine Cuisines Rosemere, consider all the available options and your preferences before you settle on one!