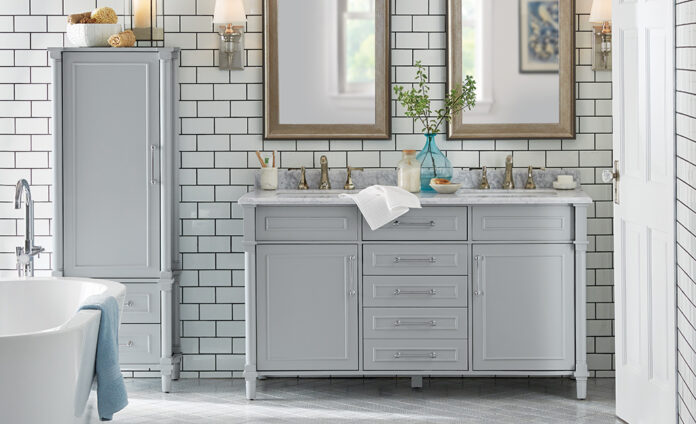 Bathrooms are the wettest rooms in a house. If they're unorganized, cluttered, and unclean, they're a cause of embarrassment for homeowners. 
Looking at the constraints of a common man, not everybody has the luxury to have extremely spacious bathrooms. And clutter is a problem when it comes to limited space!
If your bathroom is small too and you don't know how to make it practical and presentable, then adding bathroom vanities is the right answer!
How does the magic of vanities work in a bathroom?
Vanities will consume more space, you might think! But, that's not true. When space is limited, you have to play smart and add vanities in a way that they don't occupy empty space on the floor. 
Under-the-sink vanities, for instance, are very good additions to bathrooms that have space shortages. You utilize the space that's otherwise unused in your bathroom. It just creates more storage space. You can organize all your essentials neatly in the vanity. That dramatically adds the illusion of space. 
There are companies like vanités Entrepot Cuisine that especially manufacture cabinets for small powder rooms. Their cabinets that are 24″ are perfect additions to utilize space smartly.  
The next best addition to a small bathroom could be wall cabinets. Instead of piling a bulky piece of vanity on the already cluttered floor, you can install vanities on the wall. 
Yes, they do come with constraints like you can't load them with excessive weight. But, wall vanities are excellent ways to organize essentials. 
Tips to make sure that bathroom doesn't look cramped
The entire concept behind bathroom vanities is to make the place look and feel bigger and better. If the bathroom is small and you're not careful, a vanity addition can be a mistake. 
Just so you make the right call, we have made a list of a few things that'll help you choose what's best for your bathroom. Have a look!
Keep it simple. Don't add too much drama to your bathroom. Use simple vanities so that the place looks neat and organized.

Avoid using fancy shapes and designs. A regular rectangular or square-shaped vanity is a better choice. The purpose, again, is to limit any unnecessary dramatic look.
Concluding Thoughts:
Organizing a small bathroom with the right vanity cabinet is the most practical solution to deal with space shortage. 
If you've been meaning to revamp your small bathroom too, then do explore the stunning range of bathroom vanities by kitchen wholesalers.