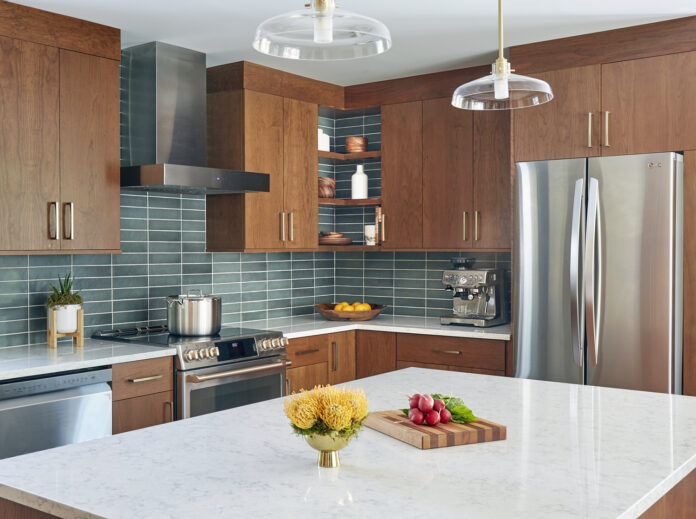 There is a good reason why L-shaped kitchens are a popular choice in kitchen design today. Since it allows for a lot of flexibility, this design works well with a variety of styles and kitchen sizes. Plus, it's highly functional and efficient from a practical and ergonomic standpoint.
While a typical kitchen isn't equipped to hold multiple islands, peninsulas, and ample countertop space, this type of a layout can accommodate any kind of household and multiple family members, no matter how big it is. 
So, if you're looking to remodel your cooking space, be sure to check out these 6 stunning L-kitchen ideas from TKS Interior Design of Naples, a full-service residential interior design + build firm, to find out which is right for you.
It's no surprise that classic L-shaped kitchens are in great demand – they're crafted to maximize traffic flow, optimizing the use of every inch of space. Typically, they feature two countertop legs forming a right triangle, one of which is usually longer than the other.
Most L-shaped kitchens are characterized by two walls at a right angle, with countertops on both sides. Alternatively, you can create a peninsula if you're in need of more counter space.
When space is not an issue, consider combining two L shapes harmoniously. A large L-shaped counter can serve as a base for appliances and accessories, and a smaller L can house a dining table. By doing so, you'll establish a gathering spot that feels completely detached from the cooking area.
It's undeniable that this layout consumes a lot of floor space. However, it also provides plenty of  countertop and workspace while giving you enough room for other activities.
When there's a limited space available, single-wall kitchens, also known as galley kitchens, often prevail. The rooms of this type usually have doors at both ends, displaying all the elements on one wall. 
In some cases, however, it might be possible to fit an L-shaped kitchen into a tight area such as this one. You'll have plenty of storage while still maintaining a light, airy feel. In this arrangement, all kitchen tools and appliances are located in two corners, freeing up the rest of your space.
An open kitchen with a dining area
An open kitchen layout with an island and a casual dining area works well with an L-shaped layout. In this case, the dilemma is whether to have a separate table or incorporate dining at a central island. Ultimately, your decision will depend on how much space you have.  
Still, unlike other designs, this one is especially practical and space-saving due to the lack of a physical barrier between the kitchen workspace and eating area. With this approach, you're able to organize the space practically and create an attractive arrangement.
L-shaped design is ideal in an open-plan living space as it can easily be connected to other areas. Separating the dining and living room can be achieved by adding partition walls. However, a kitchen with one leg attached to a wall and the other free-standing might be a good choice if looking for a more breathable space that creates a better flow.
To ensure that sinks and appliances are at the furthest distance from the living area, consider placing them at one end of the kitchen.
Broken L-shaped kitchen design
Despite having a doorway in one wall, it's still possible to have an L-shaped kitchen. This layout is known as a broken L-shape, and it makes it easy to experiment with different styles. As a result of the height of the doorway, you can add cabinetry on one leg of the L. You can take advantage of the break in the L by playing around with different countertop materials. What's best, you can also create separate workstations for food prep, cooking, and maintenance with this layout.