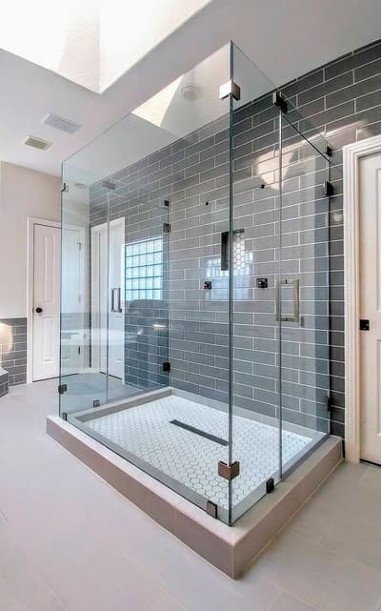 Does your shower door need a fine replacement? Or perhaps you're too bored at home and looking for some challenge? Take on a bathroom remodeling project this summer and go shower door shopping.
But before you scour your way through the market for shower doors, familiarize yourself with two main categories of shower doors: framed and frameless shower doors. It's not rocket science, but you still need to understand the pros and cons of both types of shower enclosures before picking one.
This comprehensive guide goes over the features of each type of door and addresses your concerns.
Framed Shower Doors
Framed doors have a thick aluminum frame around the edges. If you're switching from a shower curtain, a framed door can be the right pick. They're neat and nicer as compared to shower curtains.
Pros of Framed Doors
Add Stability: Framed doors are made of tempered glass, and the aluminum frame steadies the glass door. It prevents the risk of glass breaking and shattering into shards. Hence, you have a lower risk of injury.
Easily Installed: A framed shower door is easy to install. All it takes to install a framed shower door is to hang the frame. It fits any shower material without affecting the cosmetic integrity of the bathroom.
Prevent Leaks: Framed doors are less susceptible to water leakages. They contain the water inside the shower area through their track. Aside from the track, framed doors have a layer of metal frame and caulk layer to protect water from spilling. Framed doors are, hence, a watertight alternative to shower doors.
Versatile Design: Another great feature of framed doors is their modern look. You can opt for any design from different metal frames or go for a completely contemporary look with a sliding door.
Affordable Prices: Framed shower doors are cost-effective, so you pay 10-15% less than their frameless counterparts. Framed shower doors are made from thin tempered glass, which also reduces the price.
Cons of Framed Doors
High-Maintenance: Framed doors require a lot of upkeep. The metal frame around the edges can corrode as time passes. The excess moisture creates mineral buildup, and soap scum leads to mildew and mold generation. You might have to pay more to maintain a framed shower door.
Limited Motion: Framed doors are pivot doors that open outward, which means there's more chance of injury.
Dated Look: Framed doors look constrained and dated, especially in the bathroom with modern settings. Although you can choose a variety of designs, their dated look makes them a less preferred choice among modern homeowners.
Frameless Shower Doors
Frameless shower doors have thick tempered glass panels, but unlike their framed counterparts, these doors don't come with a metal frame. In the absence of a metal frame around the edges, they look seamless and ultramodern.
Frameless doors have a more stylish finish and are particularly popular among people looking for a walk-in shower area.
Pros of Frameless Doors
Plenty of Options: The design versatility of frameless shower doors is more plentiful than framed doors. It comes in a variety of configurations, styles, and sizes. Even if they don't come with a metal frame, you can go for metal hardware such as black handles and hinges for a unique touch to your shower area. You can also pick a semi-frameless enclosure to add metal enclosures on the sides and top of the shower door.
Wider Motion: The frameless hinges of the door can swing inward and outward. You can open your frameless door in any direction so that there's less risk of fall and injury.
Low Upkeep: Frameless shower doors are easy to maintain. Unlike framed doors that accumulate moisture and soap scum in the crevices, the frameless doors are less grimy. The cleaning is easier, and you can replace any part. However, framed doors require order replacements from your door manufacturer. There are also fewer parts to worry about.
Define Bathroom Design: Frameless shower doors add dimension to your bathroom setting. Instead of washing out the whole design, they emphasize the design features of your bathroom. They brighten up the space and make it look spacious. Unlike a shower curtain that hides the tilework, frameless doors accentuate them.
Cons of Frameless Doors
Too Pricey: Due to their features, frameless shower doors can be a bit pricier than framed doors.
Lack Stability: Frameless shower doors are relatively less stable than framed doors because of their thick glass. The thicker glass is less stable, leading to more risk of glass shattering.
Difficult to Install: Frameless shower doors require expert assistance. They're difficult to install and need the right bathroom setup before installing them inside.
Things to Consider
Here's more to make your decision process easy.
Budget: If affordability isn't an issue for you, a frameless shower door would be just right. Otherwise, you're better off getting a framed door. Their thinner glass is easy to install, so you'll save some bucks.
Bathroom Look: Consider the type of look you're aiming for. Is it contemporary or traditional? Frameless shower doors are perfect for a minimal and contemporary look, whereas framed doors can add a traditional look to the bathroom. The frameless door also elevates the marble tile work on the bathroom floor and makes the space appear larger.
Mold and Leaks: Are you worried about the safety of your family? Are water leaks and mold your biggest concern? You can prevent the buildup and mold generation in both types of doors. However, frameless are easier to clean so lesser soap scum and mold. Contrary to that, framed doors prevent leaks and water spilling.
Professional Shower Doors Installation in Austin
Hire Shower Doors of Austin for shower doors services in Austin. As a team of shower door professionals, they provide custom shower door installation services for both framed and frameless shower doors. You can also request free in-house consultation services before making a decision. Contact them today!